---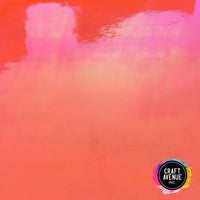 This holographic opal vinyl has an array of different colors in them depending on the lighting and angle when looking at it. It is a permanent, glossy, outdoor adhesive vinyl, with a durability rating of 5 years.
The actual size of the sheets can vary up to 0.5 inch.
PLEASE NOTE: Due to the thick vinyl backing, the vinyl may have creases when rolled up. Please place a heavy object to flatten out. Refunds/returns will not be accepted due to creases.