---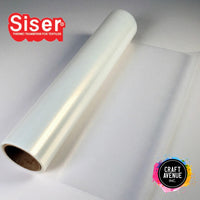 EasyWeed Adhesive is designed to use as an adhesive layer with a screen printing foil overlay. It consists entirely of the same adhesive used with other EasyWeed vinyls, and can be cut on any vinyl cutter and applied to a garment. A screen printing foil, or other material which lends itself to adhesion, can then be applied on top of the adhesive to achieve stunning effects.
If you look for the sunshine through the clouds you'll likely find the bright side! If you apply EasyWeed™ Adhesive to your project, you may find it too! The cloudy appearance of EasyWeed™ Adhesive turns clear when applied and becomes bright like the sun when you add a screen printing foil on top. Here's how you can make shining shirts with EasyWeed™ Adhesive:

Just like the materials in the EasyWeed™ Family, EasyWeed™ Adhesive has a carrier side and a material side. The carrier side is noticeably smoother and shinier than the material side. Now you may notice the material side looks like it doesn't have any, well, material. That's because it's simply a layer of mostly transparent glue. Not just any glue though, EasyWeed™ Adhesive! EasyWeed™ Adhesive can not only be used with screen printing foils, it also works with fabrics and other materials that lend themselves to adhesion.

EasyWeed™ Adhesive can be cut on any vinyl cutter and requires the typical steps before cutting Siser heat transfer vinyl. Make sure to mirror your design and place the carrier side face down on the cutting mat. Then make sure you pin the image below so you can always find your cut settings! I always recommend a test cut before cutting a full design. How old your blade is and how used loved it is will effect your blade and cut settings, so make sure your blade produces a good cut with our suggested settings or make some adjustment.

1. use the same temperature setting for EasyWeed material, 302F
2. medium pressure
3. use cover sheet, and apply 3-5 second on easy adhesive.
4. remove the carrier sheet hot.
5. cut a piece of textile foil and put in on top of the adhesive.
6. use cover sheet, and apply 12-15 second.
7. before remove the foil, please remove the garment from the heat press and let it COLD down. 
8. you're done.
For more information please check out here: https://www.siserna.com/easyweed-adhesive/